The 100th piece of perfection: production of the 100th FLIRT UK (Stadler) and RRX (Siemens) cabins

In 3A Composites Mobility we put our effort into the best quality possible combined with the speed and efficiency of production. We enjoy the effectiveness of our activities. That is why we would like to boast that from our production line on 16th May the 100th piece of the FLIRT UK cabin produced for Stadler and the RRX cab for Siemens came off.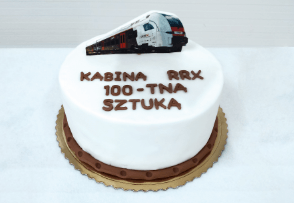 It is a great reason for us to celebrate and proof that the daily work of our entire team brings measurable and impressive results. The Management Board of the Company on this occasion invited for a sweet treat, which was prepared in the company's canteens.
Thanks and gratitude to the employees for their work and joint celebration of the jubilee is the basis of the organizational culture of 3A Composites Mobility.
However, we do not rest on our laurels, but it is even more motivation for us to further spectacular achievements.